Lindsay Lohan may have had her lows in her career and life, but she's seeming to stage a comeback as she guest stars on the May 15th episode of Glee (8 p.m. ET on Fox).
In the two-hour special, Lindsay will play herself, serving as a judge for the Nationals competition as McKinley High tries to redeem themselves after last season's lost. The glee club will take on show choir rival Vocal Adrenaline in front of a panel of celebrity judges, including Lindsay, Rex Lee and Perez Hilton.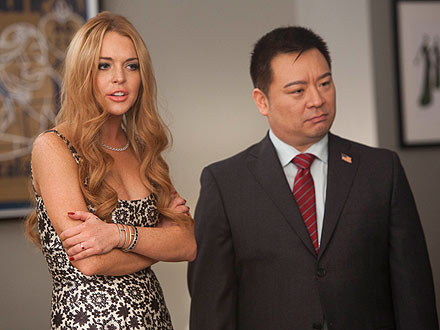 The casting news was announced in March weeks after Lindsay hosted Saturday Night Live. "Glee was fun to do!" she tweeted Monday. "It made me want to live in a world of musicals where people always just burst out into song & dance!"
Her next role? Lindsay is going to star as silver screen legend Elizabeth Taylor in an upcoming Lifetime movie.
I'm actually really excited to see Lindsay on Glee next week, as well as for the Elizabeth Taylor movie! No matter what, the girl is talented. I hope that her life is together for good this time, and that she continues to get great roles.
Photos via Adam Rose/FOX